Rant incoming about Daiya S1 and S2, with spoooooilers.
Let me describe the picture of why the mangaka is a sadist and I'm a masochist for watching and reading this show.
Eijun is the protagonist and starts as a pretty bad pitcher, with lofty goals of becoming the ace. That's all he wants, to be the ace of Seido and well, lead the team to victory. Eijun is really, really bad at the beginning of the story. Like LVL20 bad, where he can only throw fastballs, has no control, speed, strength…or anything, besides mental fortitude, guts and endless stamina. He's also good at bunting, but horrible at fielding and batting. Like, atrocious level bad of batting.
Furuya is his polar opposite. Furuya is a genius, rookie monster that has everything, besides stamina and mental fortitude, and ball control, but what he lacks in control he compensates with humongous brute force and speed. Furuya starts the show as a LVL50, he needs to polish to be even more reliable, but that's it. He's really good at batting, he's incredible at pitching. His problems feels like a paper thin excuse just so he doesn't stomp all over Eijun from the start of the Daiya.
Obviously, Furuya becomes the ace of the Seido team after the third years leave. Tanba was the previous Ace and Kawakami was his reliever pitcher, which is a second year and is still there. So Eijun becomes the reliever of the reliever, since Kawakami is still there.
Here's where the sadism part is at: each time Eijun improves? So does Furuya. If Eijun gains a new pitch? So does Furuya. So where does that leave us? Where Eijun will never become the ace unless Furuya dies, leaves the team or has a grave injury, which I don't see happening.
Eijun goes through hard times, the hardest of times. He improves, he gets set back by problems, he improves in other ways, becomes stronger. In season 2 he has become a LVL50 pitcher, still bad at batting, still good at bunting. Better control, more pitches.
Furuya became a LVL80. He's even stronger, better, faster, has more pitches, improved stamina, mental fortitude. What he lacked? He has. So what is Eijun's role? Relief pitcher. No matter how Eijun improves, if his rival does so too, at the same space he does, he'll always be outdone.
Daiya is an exercise in frustration, because yes I am rooting for the underdog MC. I like him, he works so hard, the hardest out of them all, goes through so much, but he still can't beat a genius that, truthfully, doesn't go through a third of what he does.
I don't hate Furuya, it just baffles me the decisions the mangaka has done. I could've understood if this was a "let's show how much a person can grow through hard work and then become a bamf later in life". Daiya 1 was 418 chapters, Daiya 2 could've started with Eijun as the ace of a college team and gone from there, facing Furuya as a rival as payback. But instead, it starts right where it left us at the end of Daiya 1. So why consider it finished, and give it a new title if the story is simply continuing??
The show even tells you straight to your face that as long as Furuya is there, Eijun will never be the ace, and that Eijun being there pushes Furuya to become better. That's his purpose in Seido, their rivalry pushes each other, but Furuya is pushed to go from a good player to a great player. Eijun gets pushed to go from a bad player to a good player.
I have no faith, belief or otherwise, that Eijun will ever be the ace. So now comes all my questions. If this is an underdog story, the underdog has to win at some point against the topdog or he's not an underdog but a failure.
After 400+ chapters, and going, chapters of Eijun never being the ace and never winning against Furuya…can you see why Daiya is the most frustrating sports show I've ever watched? Or how sadistic the mangaka is?
I know this isn't a typical shounen sports, it's targeting high school and college students, but ffs, this is a constant circle jerk of "he's doing it!" to "oh, Furuya levelled too, never mind then". I don't think HS and college students can take this much frustration and anguish. I know I can't, because here I am ranting what I ranted in my Twitter back in October when I read the first manga.
Daiya is addicting, so I'll always return to sports hell with it, but I wonder how far I can stomach before giving up…again. That's right, back when I read a few initial chapters of Daiya 2, I quit out of anger and frustration that everything was still the same shit.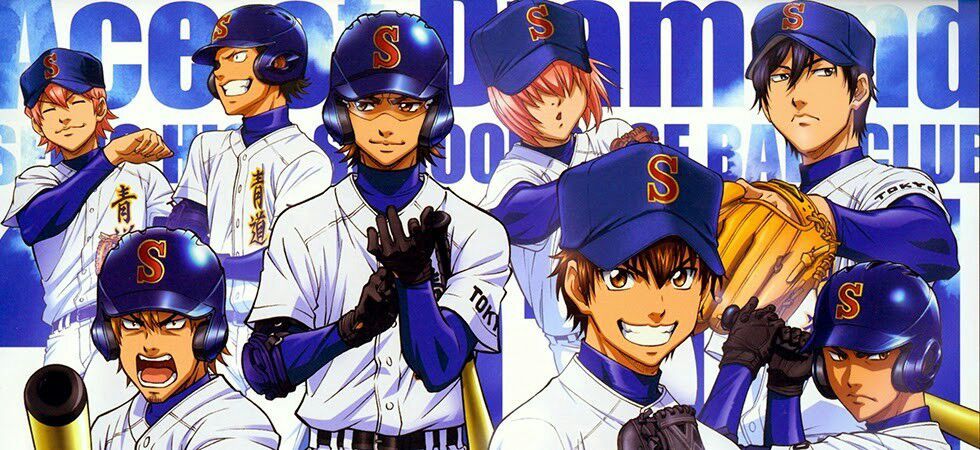 There comes a point in time when this will get old. I can only take so much of this "Eijun improves, Furuya upstages him by improving too" so many times. I understand Eijun can't be the only one improving, but TBH, I'd prefer if the fighting for ace position had been with Tanba and Kawakami instead. They're characters I can get behind, they both struggled a lot to improve, and Kawakami is still improving too. Furuya by contrast, I'm sorry to say, comes by things far too easily and that leaves a sour taste in my mouth.
In that sense, I guess I can say this manga is very realistic, because it sure as fuck shows life isn't fair (༎ຶ⌑༎ຶ) /salty as fuck
But mind you this comes from me binge watching the two seasons in four days, and besides the first 8 chapters of Daiya 2, I have no idea what is going on or will happen. But I am curious, considering there will be new team members as the first gears become second, and the second third years.
I'm not ready for the second years turned third years to graduate too ༼ ༎ຶ ෴ ༎ຶ༽
All in all, I guess this means I am invested and this series is really good. I just wish I'd known and been prepared to not have Eijun as the Ace anytime soon. If I'd known I'd be able to calmly accept it, because I really enjoy seeing his progress as a player and pitcher.
If Eijun ever becomes the Ace in the future, I can honestly say I'll cry, because of all his work and fighting. Truthfully, if it'd been me, I'd have succumbed to defeat and seen it as impossible. But Eijun is not a quitter, he won't ever go down. He's a good character, and I respect the fuck out of him and others in the Seido and other teams. And that's why I keep coming back to it, rant or no rant. Because I cried and laughed with them, and so I'll proudly wave the masochist flag for this series.
Now I just have to wait for either Daiya 2 manga to finish or for it to get animated. No way I'm reading it ongoing. Frustration + cliffhangers makes me cranky as fuck Ψ(`◇´)Ψ
This became a rant + love post to this series 😂